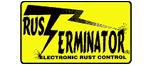 Electronic Rust Deterrent
Extend Your Vehicle's Life.
The Rusterminator is the modern choice for an electronic rust deterrent system that protects the vehicle 's metal body from perforation caused by corrosion. Now there is an alternative way to guard against the damaging decay caused by moisture and road salt. Unlike traditional, messy methods of applied petrochemicals and harmful solvents, the Rusterminator is completely safe for the environment.